The research results are based on a Crunchbase research, which also revealed that new cash has primarily preferred late-stage deals. Funding for seed and early-stage startups on the other hand, has reached its lowest spot since Q3 2022.
The United Kingdom was provided the most money in Europe during the Q3 2023, followed by Sweden, France, and Germany.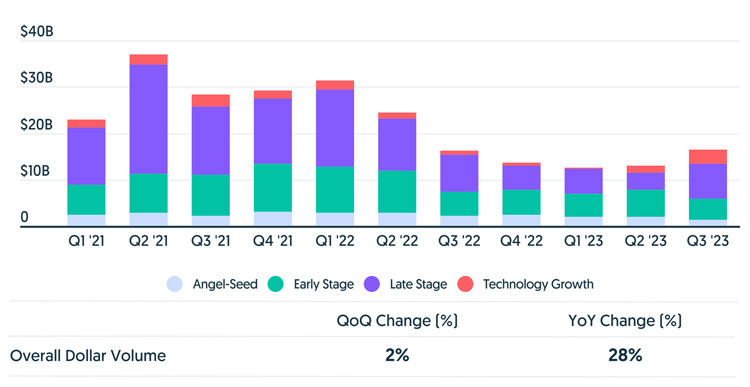 Seed capital was €1.3 billion, a decrease from €2 billion last year's results. It declined approximately 25% quarter over quarter, in addition to 30% year over year. Similarly, early-stage startups hit another low of €4.3 billion, with the most funding spent in the Series A round.
However, large rounds were raised by Conigital, a self-driving transport company based in the United Kingdom, Helsing, an AI defense company based in Berlin, Poolside, an AI infrastructure company based in Paris, Tractable, an AI for disaster recovery based in London, and Neura Robotics, a consumer and industrial robotics developer based in Germany. It made Europe double quarter over quarter, hitting €10 billion in total of investments. Most notably, huge sums were invested by venture capitalists in the sustainable energy industry, with large rounds raised by Sweden's H2 Green Steel, battery makers Northvolt and Verkor, and London-based battery storage firm Zenobe Energy.
It would be worth mentioning that European founders have raised a higher percentage of worldwide venture capital funding this year than preceding. Their share reached around 23%, while VC financing in North America remained grounded. Europe's AI firms also accounted for over 20% of the sector's worldwide funding, accounting for 11% of the region's total capital raised in the quarter prior.
"The pullback in the venture has made a huge difference in how capital-efficient a startup needs to be," said Michiel Kotting, a partner at Northzone, one of Europe's very first venture capital firms with headquarters in Europe and New York. "It is never a straight line for founders building a startup," he explained.
"If you only measure the success of tech companies by the amount of capital they're able to raise, then things look really oblique right now," he said. Then he continued on to say that "if you look at the market share of companies being built, a 10x improved consumer experience means the markets are thriving."